Tour de Patrick CANCELLED
Both remaining races will be rescheduled
After careful consideration for the health and safety of our participants the remaining two 5k run/walks (St. Pats 5k, March 21 and the Shamrock Shuffle 5k, March 28) for the 2020 Tour de Patrick are canceled due to the growing concerns regarding coronavirus.

Both races will be rescheduled and new dates will be announced after the coronavirus is no longer a threat to public safety.

The Tour de Patrick supports the decisions of the City of Providence and the State as we all focus on containing the spread of coronavirus.

We hope all participants will understand that this is a difficult time for organizing events and together we will get back to completing the Tour de Patrick when the health risks of large gatherings subsides.

Packet pick up for the remaining two races will also be cancelled and rescheduled when the new dates are established.

See below press release from the Mayor or Providence for additional details.

Mayor Elorza Declares State of Emergency in Providence, Rhode Island

Announces Guidance for Local Businesses and Residents

PROVIDENCE, RI—Mayor Jorge O. Elorza joined Providence City Officials to declare a State of Emergency in Providence, Rhode Island. Given new information and growing concern from the community, the City also announced that they will not be permitting or licensing any new events in the city. The City is also temporarily revoking any issued entertainment licenses and will not issue any new entertainment licensing until further notice. Additionally, all other license holders are restricted from serving or gathering more than 100 people at a time.

"The health and safety of our residents, businesses and visitors is our absolute top priority and we need to contain this virus in any way that we can," said Mayor Jorge Elorza. "We are asking all of our residents and visitors to work together to think about our neighbors and our community members who would be most affected if this virus were to spread and to take the proper precautions to protect all of us."

All city events for the next two weeks will be rescheduled, including the Annual St. Patrick's Day and St. Joseph's Day events at Providence City Hall. Additionally, the City is in the process of cancelling all non-essential public meetings. Essential public meetings that are required to ensure basic operations of government will proceed under social distancing and public health guidelines.

Residents are encouraged to continue social distancing (6 feet) practices as outlined by the Center for Disease Control (CDC) to reduce the spread of germs. This includes avoiding direct contact with peers through handshaking or hugging and avoiding large gatherings of people. Residents are also encouraged to continue following and sharing the recommended best hygiene practices which include: washing your hands and using gel hand sanitizer; covering your cough; staying home if sick; and continuously disinfecting surfaces.

As of this week, the latest number of confirmed cases of COVID-19 within Rhode Island has grown to five, with several individuals pending test results. Within the City's history, the last comparable outbreak occurred in 1918 when nearly 2,000 people died of respiratory illness caused by Spanish influenza; another 600 individuals died of similar causes in 1919. Preliminary estimates provided by the CDC indicate that over 34,000 Americans died of the flu between 2018 and 2019 alone.

For more information on COVID-19 and best practices you can share, residents can call to connect to the Mayor's Center for City Services by dialing 3-1-1, visiting www.PVD311.com or download the PVD311 mobile app on your smart phone for 24/7 access. Residents can register to receive CodeRED emergency notifications by phone, email, text, and/or mobile alerts for the latest updates from the City and to reach out to the Rhode Island Department of Health's COVID-19 Assistance Line at 401-432-2020 Monday through Friday during regular business hours should they have additional questions.

The Tour De Patrick is a 3 part 5K race series in Rhode Island over the month of March where runners and walkers can run/walk and accumulate their times and score in the overall Tour De Patrick in addition to scoring at each individual race. Walkers are welcome. Note: Gun time will be used at all races for awards and also used to accumulate overall Tour de Patrick times. Chip time is shown to give each participant of their individual time. So if you are a contender to win an award you should line up at the front at the starting line. All tour entrants must enter all three races before the first race in the Tour de Patrick. This year the first 500 participants that register for all three Tour de Patrick 5k's by selecting the combination offer will receive the Tour de Patrick backpack shown below. These Tour backpacks can also be purchased when registering.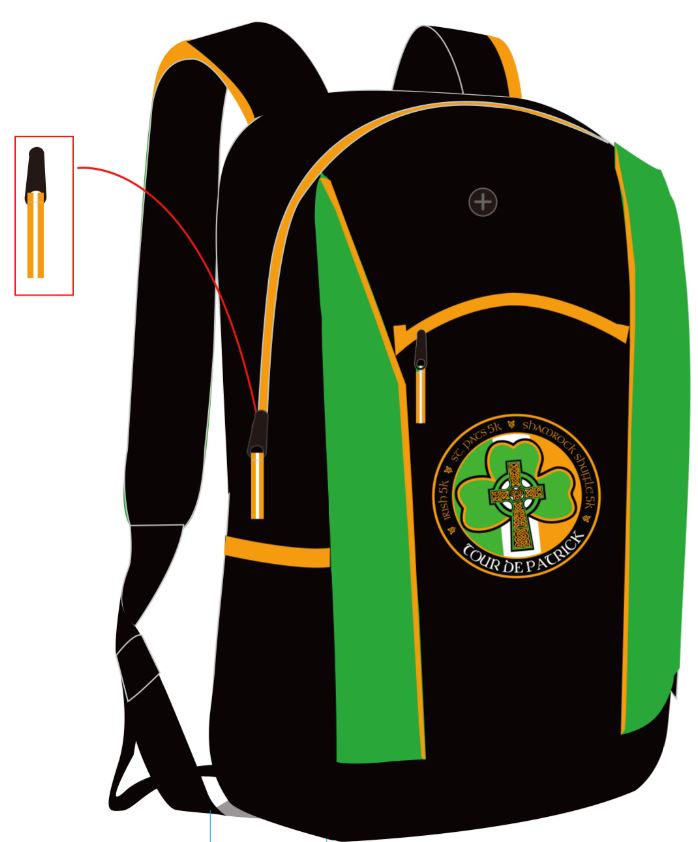 Participants can elect to register for one, two or all three races in the 2019 Tour De Patrick 5K race series.